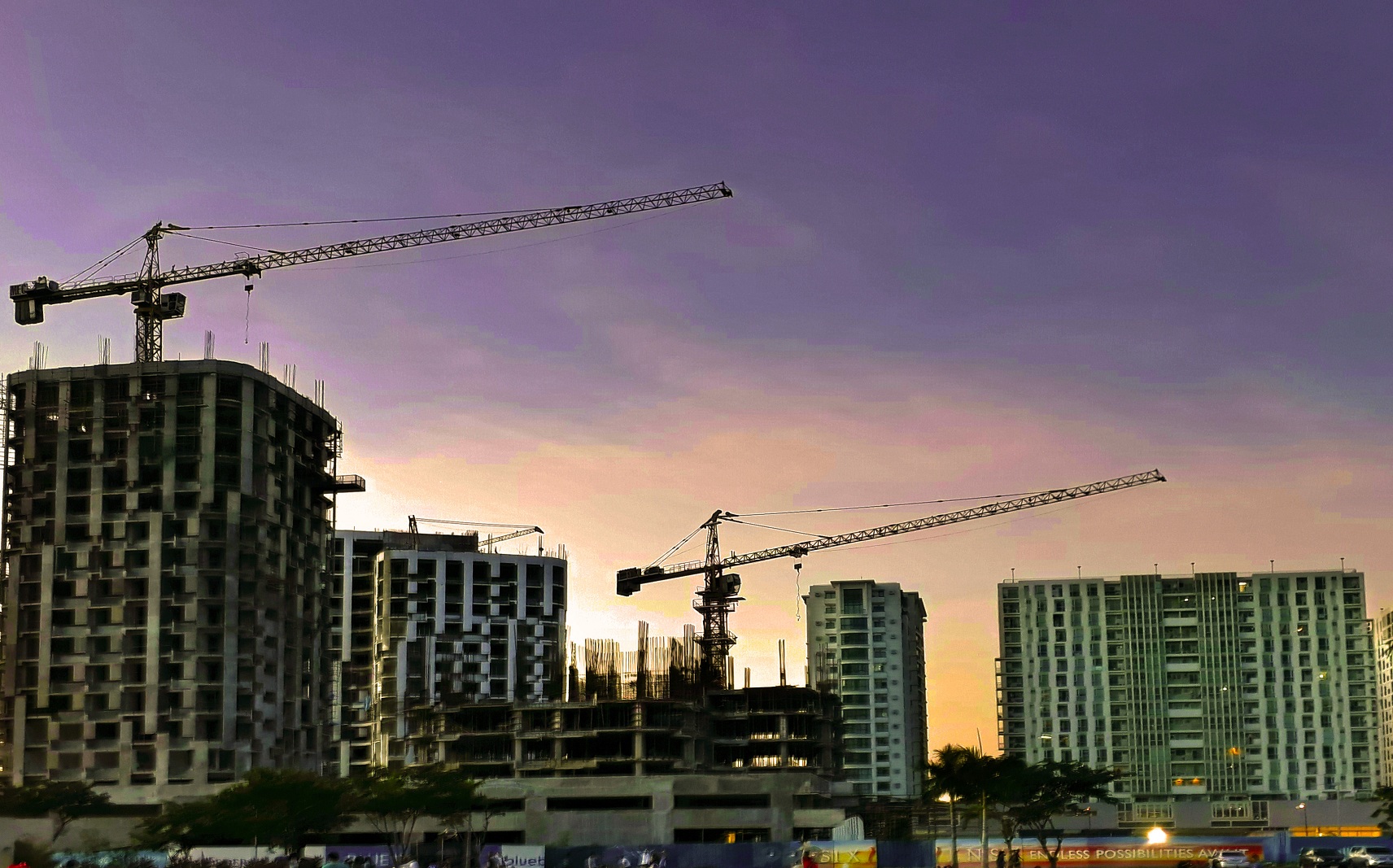 Metropolitan Cebu or Metro Cebu is a distinct market in itself. Historically, the Cities of Cebu, Lapu-Lapu and Mandaue consist the core of Metro Cebu. In 2007, the Regional Development Council of Central Visayas, composed of all governors in Region VII, formed the Metropolitan Cebu Development Council to coordinate developments in the following cities/municipalities: Cebu, Mandaue, Lapu-Lapu, Talisay, Compostela, Liloan, Consolacion, Cordova, Minglanilla, Naga, Danao, Carcar and San Fernando.
Pinnacle has focused its research in the Cities of Cebu, Lapu-Lapu and Mandaue. These cities are the most active real estate markets, and they comprise the core and driver of Metro Cebu market. In terms of cost of living and prices, this "Metro Cebu" market is comparative to Metro Manila. In terms of education and culture, Cebu highly influences the Visayas and Mindanao islands.

METRO CEBU REAL ESTATE MARKET
Like most markets, Pinnacle is presenting the real estate market by showing the trends in the various sectors. For "Metro Cebu" market or simply "Cebu Market", Pinnacle is confining its research to the three core Cities of Cebu, Lapu-Lapu and Mandaue. In terms of sectors, Pinnacle will present the Office, Residential, Retail, Hotel and Industrial markets.

CEBU OFFICE MARKET
The Cebu office market follows the national trend where the BPO industry heavily drives the market. At present, there are more than 120,000 employees in the BPO industry, or approximately, 10% of the total BPO employees in the country. The Philippine BPO industry grew by an annual average of 20% in the past decade. In the next five years, industry experts are forecasting a growth range between 12% to 18%. World-wise, the projected BPO growth for the coming years is a steady six percent (6%).
By the end of 2016, close to 900,000 square meters of Grade A office spaces comprise the office market in Metro Cebu. This is approximately 50% growth in the past four years, or an average annual growth of 12%. Four years before that, from 2009-2013, the average growth is 15%. While the growth is slightly slower, it reflects the maturing market and the Philippine office market in general.
Vacancy-wise, it started at a low of 2.45% in 2013. Due to the increasing stock, vacancy steadily increased as well. The estimated vacancy is 7.9% in 2014; 11.5% in 2015; and 17% at present. Nonetheless, rents would show that the market is absorbing the increasing office stock. The weighted average rent of Grade A office in Metro Cebu is Php 550 per sqm per month. This a substantial increase of 21% compared to the weighted average rent of Php 455 per sqm per month in 2013. The estimated weighed average rent in 2014 was Php 495 per sqm per month, and in 2015, it was Php 525 per sqm per month.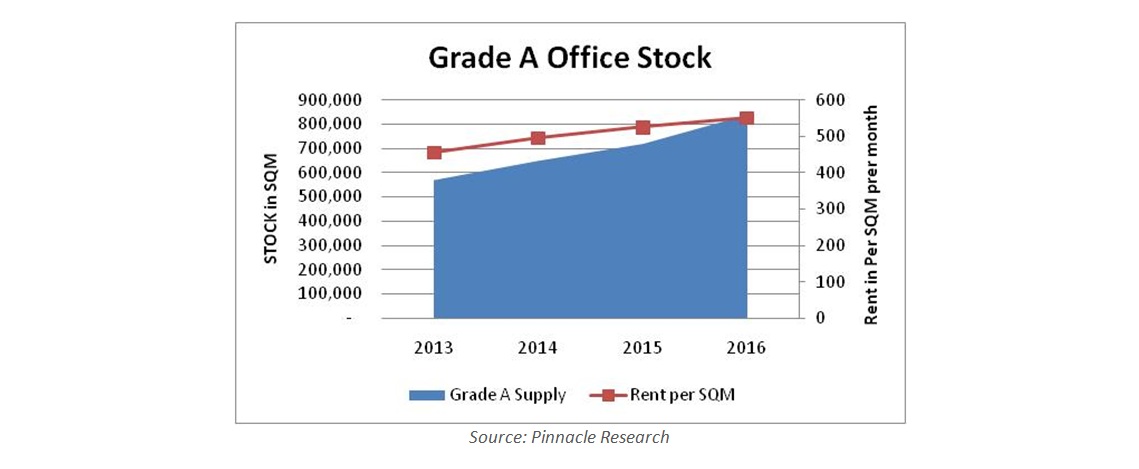 CEBU RESIDENTIAL MARKET
The Metro Cebu Residential Market shows a phenomenal growth in the past four years, solidifying the acceptance of Cebuanos to "condo-living." In terms of residential stock, the Cebu Market now has approximately 22,284 condominium units. This is a considerable growth of 148% from about 9,026 units in 2013. In addition, an average of 5,000 units will be delivered in the next couple of years.
In terms of take up, the average take up is 5,000 condominium units annually in the past four years. This is to say that the projected increase may be comfortably absorbed by the market. In the addition, stable increase in prices show the soundness of the sector. The average selling price in 2013 was approximately Php 84,000 per sqm; in 2014 at Php 90,000 per sqm; and in 2015 at Php 95,000 per sqm. At present, the estimated average selling price is Php 99,000 per sqm, or 18% increase from its 2013-level.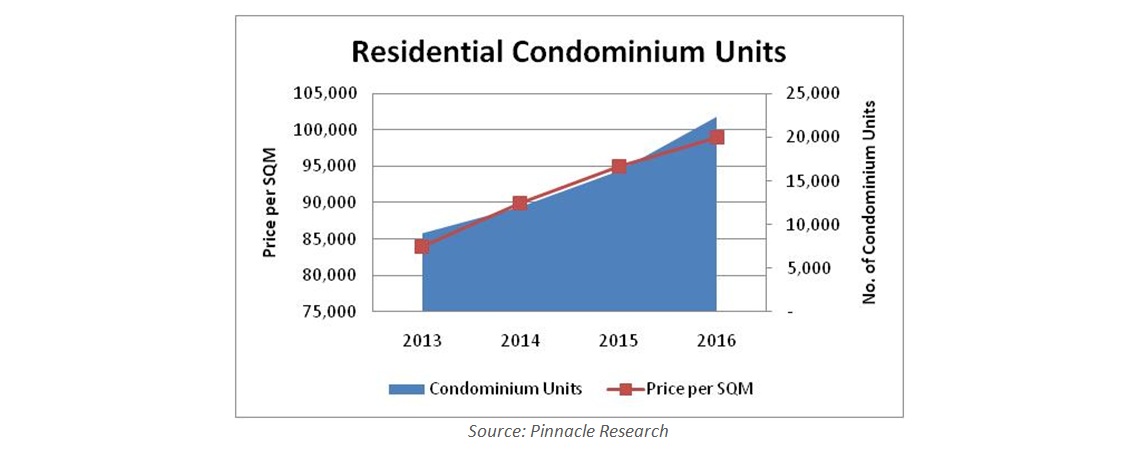 CEBU RETAIL MARKET
The retail market is typically composed of mall spaces, and in recent years, commercial spaces in office and residential buildings are considered. The Cebu retail market is robust led by the home-grown leaders like Gaisano Groups, and the strong presence of national players. Total commercial-retail spaces recently is estimated at 1,080,000 square meters due to the steady completion of the sprawling SM Seaside Cebu. This is a phenomenal 98% growth from the estimated 545,000 sqm of retail spaces in 2013.
Due to the rapid growth in retail spaces, vacancy increased in the past four years. The estimated vacancy rate of commercial retail spaces started at a low of 2.55% in 2013, and actually dipped to just 2% in 2014. Due to the increasing retail stock, estimated vacancy increased to 12% in 2015 when more than 200,000-sqm of retail spaces were offered to the market. Vacancy dipped again to 9% at present, since the market is steadily absorbing the vacant retail spaces. Rents also show that the strength of the Cebu retail market. Retail rents range from Php 600 to Php 1,200 per square meter per month last year. This year, Pinnacle observed that retail rents range from Php 700 to Php 1,300 per square meter per month.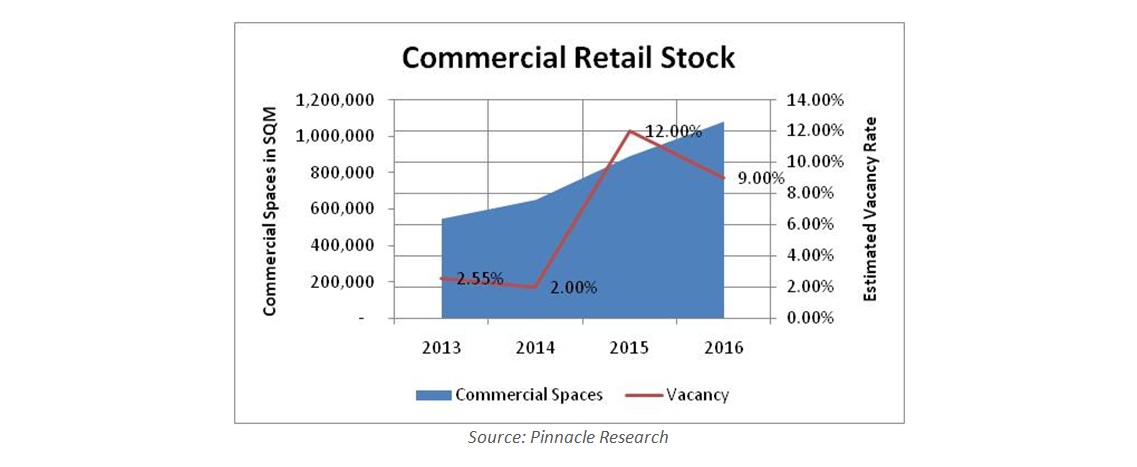 CEBU HOTEL MARKET
Classification and monitoring of hotels is a tricky exercise since Philippine classification does not follow the typical "star" classification in the international arena. Pinnacle focused its research in the "deluxe" category or the hotels with "star" equivalent classification. Pinnacle estimates that the Metro Cebu Market has a total of approximately 9,500 hotel rooms with star-classification. This total stock grew from 7,800 rooms last year, or an increase of 22 percent.
Even with the increase, average occupancy increased to 90% this year, as compared to 85% last year. In terms of room rates, deluxe hotels have an average room rate of Php 3,800 per night. There is an increase of 9%, from Php 3,500 per night, even when new hotel rooms were opened to the public. The healthy occupancy and room-rate level bode well for the Cebu hotel market.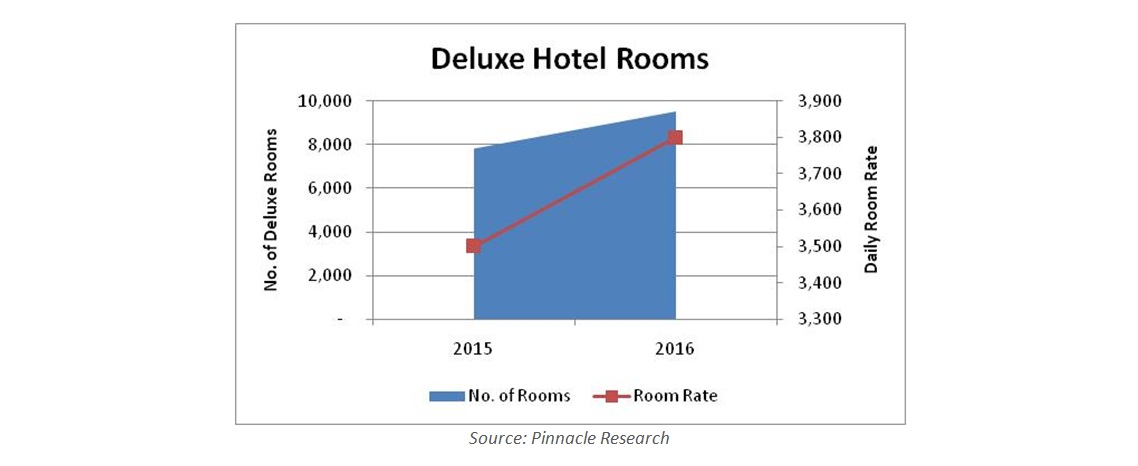 CEBU INDUSTRIAL MARKET
The Metro Cebu industrial market is very healthy, in fact, the industrial zones in Metro Cebu were filled up more than four years ago, well ahead of their counterparts in Luzon. At present, there are 27 IT Parks/Centers; seven (7) Manufacturing Zones; two (2) Tourism Economic Zones; and one (1) Agro Industrial Economic Zones. The total area of economic zones is estimated at 120 hectares. At present, less than 3 hectares of industrial space is available for lease, or an estimated occupancy of 97.5%. In addition, there are also manufacturers located outside of these economic zones as well.
Since there are limited available industrial spaces in Metro Cebu, a total area of 50 hectares is planned for a light industrial park in the ongoing reclamation in Minglanilla. This is a Public-Private-Partnership of the Philippine Reclamation Authority, Minglanilla and Cebu local governments, and the local developer Cebu Landmasters.
OVERALL, the Metro Cebu Real Estate Market is very developed and has reached its maturity. There are still gaps in the market and some market inefficiencies that shrewd players may take advantage. The recently approved vertical socialized housing, and the increase in the price and loan ceiling of economic housing may extend the boom in the residential sector. New township developments may spread out the centralized development in Cebu City. The Industrial sector seems a looming winner as well. At any rate, Pinnacle maintains its advice of proper due diligence and detailed market study due to competition. Like most mature markets, healthy competition brings out the best designs and products at attractive rents and prices.