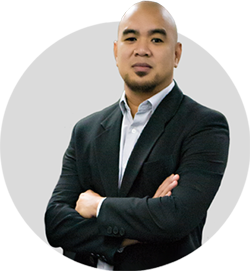 Michael Mabutol
President / Managing Director
PRC REBL No. 3919
AIPO No. 5295
NAR International REALTOR® Member
Michael Mabutol
Mike has been in the real estate industry for 16 years. His experience in the industry is broad, ranging from representing property owners, investors, buyers and tenants on selling or leasing properties, managing diversified portfolios, to finding opportunities for capital markets.
His primary focus in the last 8 years is assisting banks and investment funds in disposing their non-performing assets. He's also considered as one of the top property auctioneers in the country. Mike has sold and resolved more than 2,000 properties amounting to more than Php2.5 Billion.
Prior to joining Pinnacle, he worked for 7 straight years for one of the top global property consultancy firms as Director for Investments and Capital Markets Group. His notable clients are Shell Petroleum Company, Lehman Investments, Credit Agricole, CLSA, HSBC, Sony Philippines, Philips Electronics, Tupperware Philippines and Philam Properties (AIG group).
Mike graduated with B.A. Political Science degree from the University of the Philippines.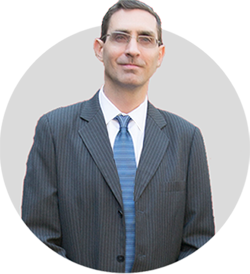 NEIL HAGAN
Executive Director
Chartered Financial Analyst (CFA)
NEIL HAGAN
Neil has been actively involved in real estate and structured finance and the management and servicing of performing and non-performing loan portfolios and real estate throughout Asia including Japan, Korea, Philippines, Taiwan, Indonesia, Singapore, Turkey, India, Vietnam, and Thailand. Neil joined Lehman Brothers in 1998 as a Fixed Income Product Controller covering Global Commercial Real Estate (GCRE) and Principal Transactions.
In 2000, Neil was assigned to Capital Services/ Sunrise Finance as Director of Finance and assisted in the development of the Tokyo and Korea platforms for two years before transferring to Thailand for a three year assignment to develop the Thailand asset management platform and debut Thailand's first non performing Residential Mortgage Backed Security (RMBS). In June 2005 Neil returned to Tokyo to assume the role of Director of Operations/ GCRE covering new products and new countries and a robust Japan based securitization business.
In 2007, Neil transferred to Singapore to cover south east asia asset management, the commercialization of Capital's asset management and loan servicing system, and the exploration of NPL in India. In 2010 along with a local partner, Neil completed a management buyout of Capital Services' Philippines asset management platform now renamed Pinnacle Real Estate. Since 2010 Neil has been covering Philippines distressed debt and real estate.
Neil is a CFA® charter holder and graduated with a BA in Economics (cum laude) from Wake Forest University and with an MBA from the International University of Japan (IUJ).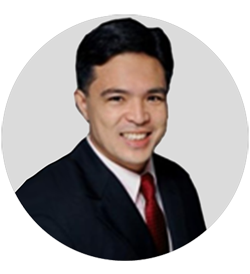 JOSE ROMARX SALAS
Director, Research and Consulting
PRC REC License No. 67
JOSE ROMARX SALAS
Jojo is one of less than 100 Licensed Real Estate Consultants in the Philippines. He used to be the Executive Director for Investment Properties and Capital Markets of CB Richard Ellis (CBRE) Philippines. He was also the Vice President and Head for Property Management and Disposal of Cameron Granville Asset Management Inc. (SPV-AMC) or CGAM. He also worked for Century Properties Group Inc. (CPG) as Vice President for Business Development.
He is known for popularizing the Retail Auctions in clearing the portfolios of non-performing and acquired assets of the banks and other financial institutions. He has been the Top Auctioneer for most of the leading banks and his Team has conducted over 40 auctions in the mid-2000s.
He has over 16 years of professional work experience devoted to property management, consultancy and brokerage. As Head of various departments in CBRE, CGAM and CPG, Jojo has structured investment transactions and advisory projects worth over Php 9 billion (US$ 250 million). He likewise transacted leasing deals worth over Php 500 million (US$ 10 million). Jojo also supervised the Research and Consulting Department as well as the Valuation and Advisory Department of CBRE, and positioned them to compete with both local and international practitioners.
He received his Master's Degree in Urban and Regional Planning Major in Transportation Planning from the University of the Philippines Diliman (1998). Jojo is now pursuing his Doctoral Degree in Urban and Regional Planning, Major in Environmental Planning in the same university. He completed his Bachelor of Arts in Sociology in University of the Philippines Los Baños.
He attended various international and local seminars on property, investment, finance, and marketing. He is a Licensed Real Estate Broker and Appraiser, and a regular lecturer of real estate review seminars.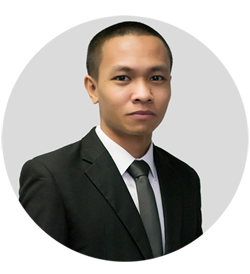 MARK DEL ROSARIO
Director, Sales, Leasing & Marketing
PRC REBL No. 0019722
MARK DEL ROSARIO
Mark has been in the Real Estate Industry for over 9 years. Mark started his career in real estate with a global real estate service provider and one of the pioneers of the Auction Services Team which managed public auctions and sealed biddings in the past years, selling more than 2,000 properties worth over two billion pesos. For the past 7 years he has moved up the ranks and has been involved in various asset dispositions focusing in Commercial Buildings and Industrial Facilities
Mark was also assigned to serve as a consultant for the Largest Mine Development Company in the country. He has provided transactional advisory to the said company for acquiring land for their off-site infrastructures covering over four municipalities and negotiating with over 1,000 landowners.
As Associate Director for Investment and Corporate Sales, he is primarily responsible for the disposal of big ticket properties of various financial institutions such as Banks, SPV's, and Multinational companies.
He is also responsible for servicing the corporate real estate requirements of real estate developers and various local and international companies.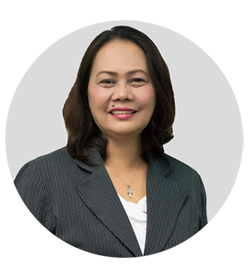 LUCHIE CASTILLO
Associate Director, Asset Management
PRC REBL No. 16992
LUCHIE CASTILLO
Luchie Castillo has been in the Banking Industry for the last 27 years. During her early years, she was with the specialized lending group where her main task was to streamline agricultural projects for financing under the specialized programs offered by the government.
She was also involved in the mobilization of multi-lateral funds/specialized funds from government funded projects like IGLF, DBP- IBRD Loans, SSS-Kasapi, GFSME and the like.
The last 15 years of her banking career was primarily devoted in the disposal of banks' acquired assets where she gained her experience in real estate. It is her firm belief that the primary goal of asset disposal is to convert the asset to cash at the earliest possible time.
She graduated with a degree in BS Agricultural Economics at the Cavite State University (formerly Don Severino Agricultural College) and an MS in Agricultural Economics from the Xavier University.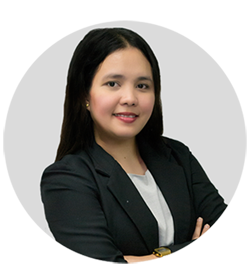 MYLA BEGUIRAS
Business Development Manager
PRC REBL No. 0011830
MYLA BEGUIRAS
Myla has been in the real estate industry for over 8 years. She started her career in real estate in one of the top Pioneers in Auction Services Team which manage eighty three public auctions both exclusive and multi-banks held nationwide, with over P6.7 Billion pesos in Sales. She was also involved in Business development work expanding the company's clientele.
Her notable Clients are Philippine National Bank (PNB), United Overseas Bank (UOB), Allied Bank, Philamlife, Chintrust, Home Guaranty Corp. and Grandholdings Investments (SPV-AMC), Inc. With her current post in Pinnacle, she is task to handle Business Development work focusing on marketing company's business line.
Myla graduated with AB in Mass Communication degree from Adamson University.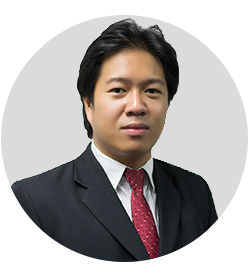 NEIL VINCENT MONSALUD
Sales Officer, Cebu Regional Office
PRC REBL No. 0023424
PRC REAL No. 0007225
NEIL VINCENT MONSALUD
Neil started in the real estate industry as a project-based Non-Performing Assets (NPA) Associate at Pinnacle in 2013. He was tasked to track owners of several foreclosed properties included in a portfolio and provide them opportunity to repurchase it in a discounted price.
Later, he was entrusted with the Property Officer position handling property services required by clients ranging from due diligence, document retrieval, site inspections to research related functions. Thus, he travelled nationwide to transact with LGUs and various government agencies further exposing him to the real estate industry.
In 2015, he joined the Sales and Marketing Department handling investment and corporate accounts. Moreover, during that year, he passed the licensure examinations for both Real Estate Brokers and Real Estate Appraisers.
Given the opportunity, Cebu Regional Office was officially launched in 2016 to cater the clients' requirements in the Visayas and Mindanao. With this, he relocated to Cebu City for the said expansion covering regional tasks and to entrench company's presence in the said area.
Neil graduated with a degree of Bachelor of Arts in Political Science at the University of the Philippines - Manila.